For collection orders, please click on the below customer order form.
COVID-19 UPDATE
May 25th: Update 
In Store Shopping Returns From June First. 
From Monday June 1st, we will be re-opening for in store shopping.
To keep within the recommended distancing guidelines we will be allowing up to 3 people in the shop at once. Our little shop was never designed to accommodate such distancing measures and as such we hope everyone can understand the smaller limit.
We have been busy moving the shop fixtures around to maximise the space between customers. Please be mindful when shopping, if there is another customer in a section of the pantry you need to use or someone already at the register, please keep your distance. Markers will be placed on the floor as a guide.
The pantry was created to be a very tactile shopping experience and as such we are having to put in place measures to make sure each surface kept as clean as possible. We will be asking all customers wishing to shop in store to wear gloves. These gloves will be provided once you are inside the store. Mindful of not wanting to create more waste we have sourced certified compostable and biodegradable gloves that we will dispose of correctly.
We ask any customer not wishing to wear gloves while shopping to place their order via email for collection only. We understand this is an extra step, but as each lid will need to be touched to gain the goodness it hides, we cannot wipe down each surface as it is touched. Wipe downs will occur periodlcally throughout the day to maintain the proper hygiene standards.
Containers will be allowed to be filled as long as they are washed and clean, without previous product inside. Please remember not to place containers inside tubs when filling, funnels and smaller scoops are available to assist you. We are always happy to help you fill your containers if you would prefer it.
We can't wait to welcome you back into the pantry and we thank everyone that has support us during these crazy upside down times!
Updated Shop Hours
Monday 10am – 4pm
Tuesday 10am – 4.30pm
Thursday 10am – 4pm
Friday 10am – 4pm
Saturday hours will resume on Saturday June 6th 9.30am – 1pm.
Stock & Supplies: 
We are still experiencing some delays in deliveries arriving to the shop as the freight network is being stretched further to accomodate the extra online buying currently happening.
Purchase Limits: 
There are a few limits still in place as we get our continue to have delays receiving stock:
Flour: 2kg per flour, total of 6kg per customer or one 5kg bag and one extra kilo of flour.
Canned Items: 4 cans of tomatoes, 2 of each other item.
Rice: no limit, however our range has been limited and we ask each customer to take only what they need.
Panic/excessive purchasing will not be tolerated.
Toilet Paper: 
Regular toilet paper purchases are now available, including boxes. We are waiting for our next delivery to arrive so if you would like to order a box please let us know.
Bread Orders: 
We are now on pre-ordered bread, Friday only as the courier for Wild Rye's is not operating on Monday until further notice. If you would like to place an order for bread please email sales@therusticpantry.com.au with your order for the following timeframes:
Friday – Wild Rye's: Order by 5pm Wednesday.
Honorbread are going on their annual two week break. Friday May 29th will be the last day for two weeks to purchase Honorbread. 
Finally, we would like to thank everyone for their understanding and continued support during this crisis. We are hoping to stay open as long as possible, these measures are to make sure not only we are kept safe but you as our customers.
Thank you, Jan, Elisa & Nic.
socially responsible shopping
how to shop
at
rustic pantry
1. check your fridge and pantry and take note of what you have
2. plan a menu for the next few days or the week ahead, include breakfast, school and/or work lunches and dinner
3. make a shopping list of what you need and how much
4. gather your clean jars and/or your reusable bags from home
5. come into the shop, say g'day and have a staff member weigh your containers
6. before serving yourself, use the hand sanitiser or ask to wash your hands
7. scout out what you need from your list
8. fill your containers and note the product number and/or name
9. when you are ready, head to the register
10. leave knowing you have consumed more sustainably and actively contributed to a reduction in CO2 emissions and a reduction in material waste headed for landfill and incineration
Rustic Pantry offers a personal shopping alternative and the chance for shoppers to make socially responsible decisions about how and what they eat.
We support local food production, the ethics and benefits of sustainable, organic and fair trade food production and have a focus on food education and the pleasure of eating well.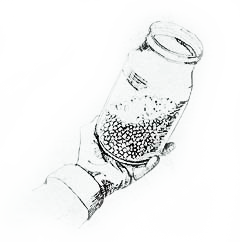 Locally baked sourdough breads are available twice weekly, alongside a wide and diverse array of pantry items.
Wholefoods can be purchased in bulk to save cost and customers are encouraged to BYO or re-use and recycle packaging and containers.
featured products