socially responsible shopping
how to shop
at
rustic pantry
1. check your fridge and pantry and take note of what you have
2. plan a menu for the next few days or the week ahead, include breakfast, school and/or work lunches and dinner
3. make a shopping list of what you need and how much
4. gather your clean jars and/or your reusable bags from home
5. come into the shop, say g'day and have a staff member weigh your containers
6. before serving yourself, use the hand sanitiser or ask to wash your hands
7. scout out what you need from your list
8. fill your containers and note the product number and/or name
9. when you are ready, head to the register
10. leave knowing you have consumed more sustainably and actively contributed to a reduction in CO2 emissions and a reduction in material waste headed for landfill and incineration
Rustic Pantry offers a personal shopping alternative and the chance for shoppers to make socially responsible decisions about how and what they eat.
We support local food production, the ethics and benefits of sustainable, organic and fair trade food production and have a focus on food education and the pleasure of eating well.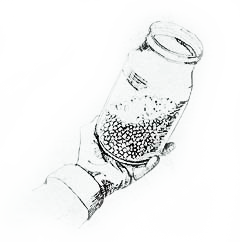 Locally baked sourdough breads are available twice weekly, alongside a wide and diverse array of pantry items.
Wholefoods can be purchased in bulk to save cost and customers are encouraged to BYO or re-use and recycle packaging and containers.
featured products